TO RSVP & PURCHASE TICKETS TO CASINO NIGHT (CLICK HERE)!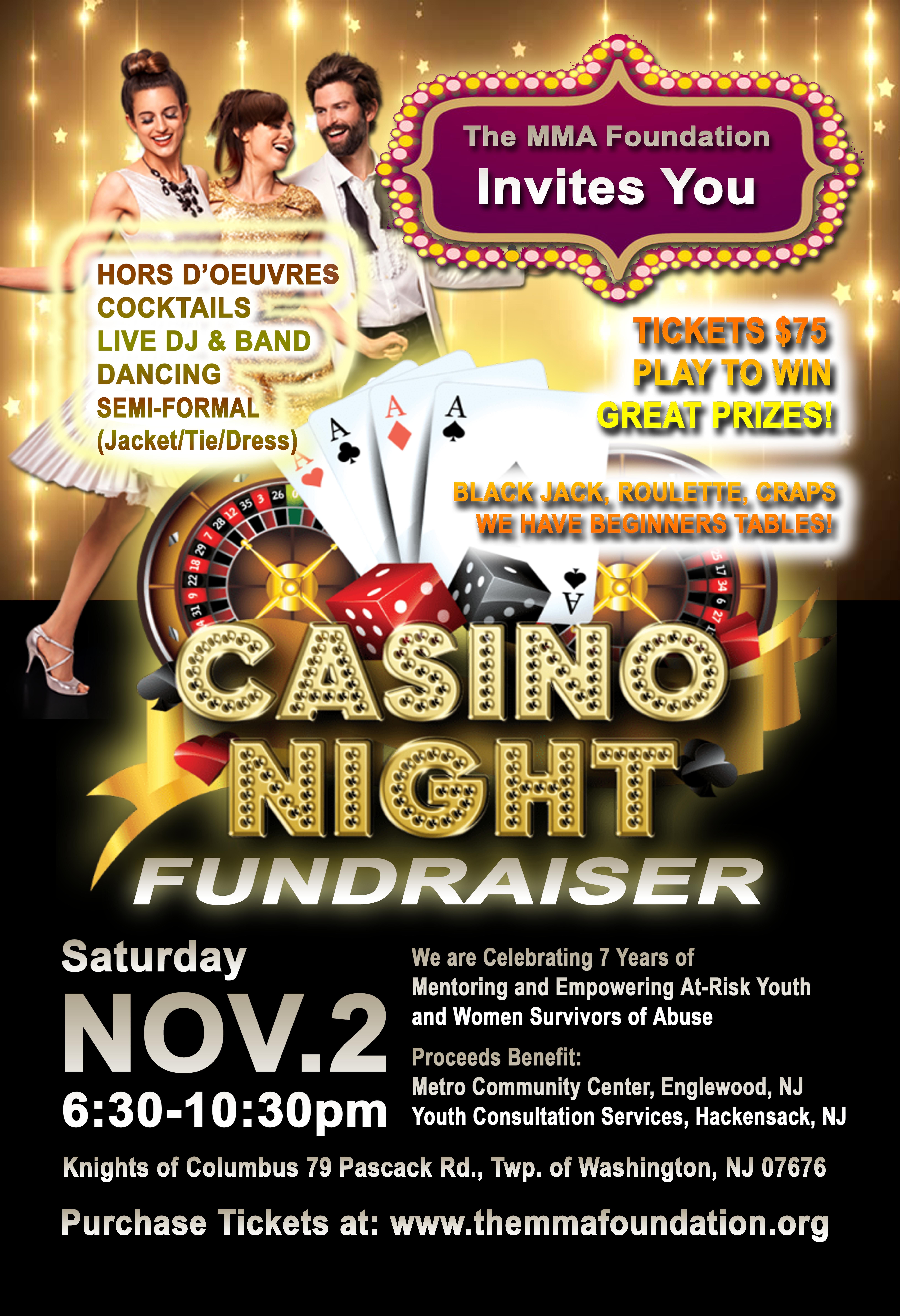 You are invited to CASINO NIGHT - our 2nd ANNUAL fundraiser! Evening includes professionally staffed casino tables, raffle and tricky tray prizes, a silent auction, live band, dancing and more. A complete beginner's table with dealer coaches too! 

Proceeds will benefit our partners including Metro Community Center (providing after school and mentoring services to youth and teens in Englewood, NJ) and Youth Consultation Service (www.ycs.org), an organization providing residential and other supportive services for youth and families affected by trauma and disabilities.

All you can eat Hors d'Oeuvres // Cash bar // Semi-formal attire (tie, jacket, dress)
Live music by The Sandy Stones Trio
Also featuring Five Star DJ Entertainment 
TO PURCHASE TICKETS, CLICK here.
---
1st ANNUAL FALL CLASSIC - SOFTBALL TOURNAMENT FUNDRAISER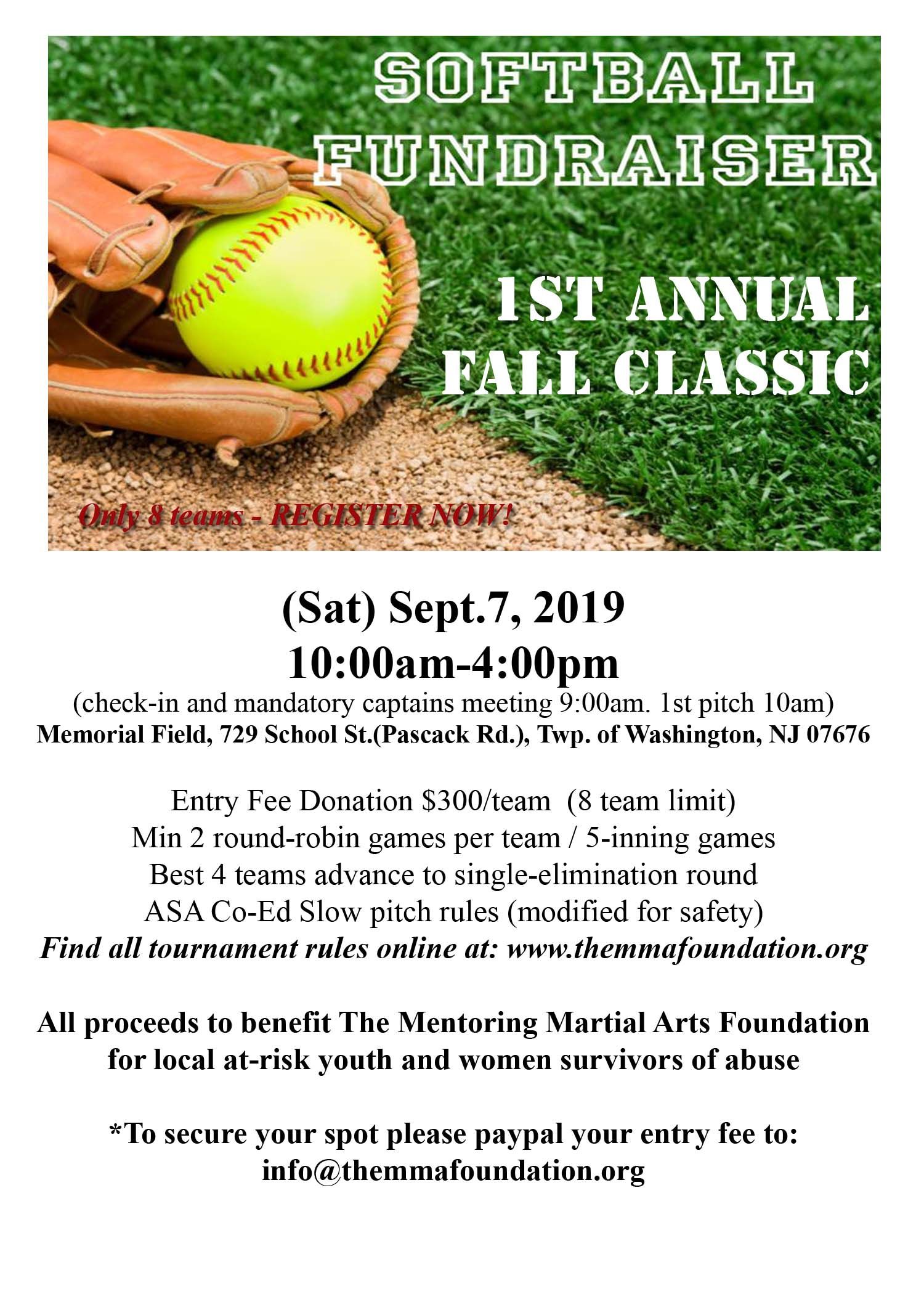 TOURNAMENT FORMAT:  8 teams, 2 divisions (4 teams/div). (A-B-C-D) 2-Game Round Robin by lottery.  Best 4 teams advance single-elimination.  All games will be 5-innings. There will be a coin flip to determine home team.
(1st round) A vs D, B vs C.  (2nd round) winner A-D vs. loser B-C, winner B-C vs. loser A-D. (3rd round) Best 2 teams each division by record and run-differential playoff single-elimination.
RULES:  ASA Slow-Pitch Rules with slight modifications for safety.  Min 4' slow pitch arc (no windmill, no sidearm) with Extended home plate (ball must land on home plate + extension). Official 12" DeBeer F12 Clincher.  All bats MUST be ASA certified slow pitch bats.  Minimum 9-players on field maximum 10 players.  At least 1 player on a team MUST be female.  For safety and competition, all players must be at least 15 years of age. Count starts (1:1) 1 ball and 1 strike with 1 courtesy foul allowed.  Runners MUST attempt to slide, or concede to avoid collision, or run outside the baseline at ANY base if the fielder has full possession of the ball.  If no attempt is made, the runner will be automatically called out.  No stealing on any bases.  Runners may lead off the bases UPON CONTACT with the bat and ball ONLY.  To avoid unnecessary delays, conflicts and for time-management, runners may tag up only once from any base, ball is dead thereafter.  Infield-fly rule in effect.  5-inning 15 run mercy rule will be in effect.  ALL OTHER RULES will be discussed during the mandatory captains meeting and clarified by umpires prior to start of each game. 
PROHIBITED:  Metal spikes on cleats, non-ASA approved bats and any bat on the ASA Banned Bat list (umpires will inspect bats).  Windmill or sidearm pitching.  Arguing or fighting with umpires and opposing team players (you're team will be disqualified).
A formal set of these rules will be emailed to you upon registration.  For more information, email:  susan@themmafoundation.org.
---
In Haiti with The MMA Foundation, Kaleb Noruzi